Marina & Rates
Boat Slips with Cottage or Campsite Rentals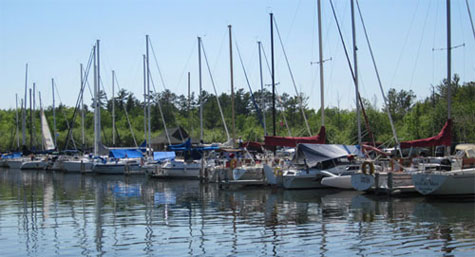 With a campsite or cottage rental, customer boats brought on-site are $17/night with . This includes use of the boat ramp and parking of your trailer. With advanced notice a covered, protected boat slip with power and water at the dock will be assigned to you.
Shores has several places and options for mooring your boat: 1) At a dock in front of your cottage; but be careful, this is not a safe option in even moderate wind. 2) At the small harbor near Cottages 1 - 6. Space in this harbor is available on a first-come, first-served basis. 3) The large, inland marina. This harbor includes covered slips with water and power at each slip, a pump-out, gyn pole for standing masts, boat ramp, fish cleaning house and gasoline at the dock. With advanced notice, a slip in this harbor will be assigned to you.
Boat Rentals
A 1/2 day rental is dawn - 2 PM or 2:30 PM - dusk.

Pontoon - New 2015, 20' Harris Cruiser, 60HP Mercury 4-stroke, 10 person max. - $175/half-day, $250/day, $200/day (2 days), $150/day (3+ days)
Fishing Boat - New 2015, 17' Polar Kraft, 40HP Yamaha 4-stroke tiller, ped seats, graph, livewell, 5 person max. - $100/half-day, $175/day, $150/day (2 days), $100/day (3+ days)
Runabout - 17' Starcraft, 160HP V-6 I/O, 7 person max. - $175/half-day, $250/day, $200/day (2 days), $150/day (3+ days)
Photo of Each Boat Rental Boat Rules
Dock Slip - with rental of Cottage or RV Site
$17
$112
$N/A
$897 or 1,066 large slip
Dock Slip - boat without a berth, docks include shore power and water
$29
$175
$N/A
$1,538
Dock Slip - boat with a berth.
$42
$294
N/A
$2,105 or 2,370 large slip
Seasonal Boat Slips
Shores large, in-land marina includes 114 boat slips. Fifty of these are covered for power boats. Sixty four of these are uncovered for sailboats. While Shores keeps a waiting list for slips; like RV Sites, most slips turnover with the sale of a boat on the slip. A listing of RVs and boats for sale at Shores is on the For Sale at Shores page.